Things you must do in Oslo
Visiting Norway soon? Here are some things you must do in Oslo: capital of the happiest country in the world!
All people joining our trips will be given an Oslo guide for their stay in Norway. This article contains some of the insider tips for things to do and explore in our lovely green capital. The Oslo guide also has practical tips. For example, do you plan to reach Oslo from the airport Gardermoen? The train NSB is 2-3 minutes slower than the airport express, but it costs nearly 50% less than the airport express. You can use it both from the Oslo central station and from the airport!
Oslo is an active and vibrant town waiting for you to explore it. So, here are some of the things you should do in Oslo!
ACTIVITIES
Hike in Nordmarka:
Oslo is surrounded by nature, the fjord on one side, and the forest on the others. The people who live in Oslo love the fact that you can go from the city centre and be in the forest in just 20 minutes. We often go hiking or skiing in Nordmarka, the forest closest to the city, where Holmenkollen is situated. The number of trails and activity options are close to being unlimited in this urban wilderness!
Sognsvann, Nordmarka
Ski in Marka:
What makes Oslo unique among other European capitals are the endless amount of different outdoor recreation possibilities you have during summer and winter. Both skilled and non-skilled skiers can enjoy more than 2600 kilometres of cross-country skiing tracks all over the forested area called Marka. Experiencing the sunset while skiing in the forest marka is worth a visit to Oslo alone!
Run at Bygdøy: 
Bygdøy is a peninsula with a lot of museums (see below) and a forest perfect for a morning or evening run. You reach the tracks either by bus or by boat (from Aker Brygge). Is it warm and sunny? Take a swim at Paradisbukta or Huk – that's where you find the Oslo-people who is staying in Oslo for the summer.
And why not combine activities and culture? Take a walk in the famous Vigeland sculpture park. The biggest sculpture park in the world made by only one man. On a sunny day, the green lung is one of many popular hangouts for the locals in Oslo.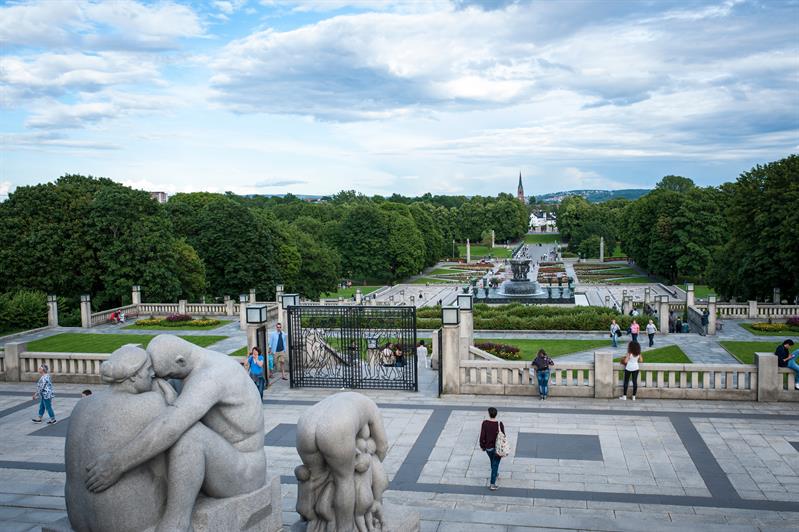 FOOD
After a healthy start, you should enjoy our local food, good coffee and local-brewed beer. Most importantly, do not forget to visit the grocery store and get hold of a brunost (brown cheese). 
This new street food/food truck-hall on the peninsula between the Opera House and the City Hall/Aker Brygge is well worth a visit. International food (not to expensive), good music and good atmosphere.
Not that hungry? No fuzz, just great coffee, that's Supreme Roastworks saying, a famous micro roastery at Thorvald Meyersgate at Grünerløkka. A lot of people would tell you they have the best coffee in town. 
SLEEP
Small and cosy hotels are our favourite. Oslo has several of them, and we gladly help our travellers with their accommodation in Oslo. If you like to spend a night in the outdoors, please contact us for advice on where to go camping or to put up your hammock in the trees. We often do this ourselves to get a quick nature experience close to the city. 
Our entire Oslo guide is given to the people travelling with Hvitserk. It contains more than 30 insider tips letting you know how to enjoy Oslo like a local. 
See you in Oslo, and Norway!